SHOCKING!!! Japan Chef Mao Sugiyama Cooks and Serves own Genitals (GRAPHIC PHOTOS)
( 1 Vote )
We live in a crazy world and some would go all the way to achieve culinary delight. This is a case of a chef in Tokyo who shocked the world by announcing that he will cook and serve at a banquet his own genitals.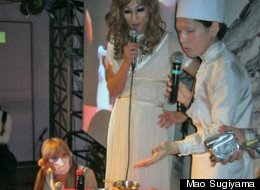 And so he did and it was not something that people didn't rush to see! (scroll down for photos)
Chef Mao Sugiyama first posted a Tweet with his intentions, saying that he will have 6 people to eat his penis. And this time there were people who accepted to pay $250 each for the "treat".
Huffington Post says that just days after Sugiyama's 22nd birthday, the artist underwent elective genital-removal surgery, divvied up the severed penis shaft, testicles, and scrotal skin between five people, and garnished it with button mushrooms and Italian parsley.
There were 5 people who ate Mao Sugiyama's genitals (the sixth was a no show, understandably) but apparently nobody said if they were good or not. However, dozens of people were present just to see the whole thing happen which is kind of awkward too.
The story went viral in Japan. Some showed even more interest, while others complained. But Calorie Lab called Japanese authorities, who deemed the banquet legal because there is no law against cannibalism in the country.
If you are curious to see the pictures of the cooked Mao Sugiyama feast, look below. Be warned though, these are pretty strong images!
And apparently those who say that anything can happen in Japan, they are correct!
newsareweird

You have no rights to post comments. You must be a member to post comments LOG IN